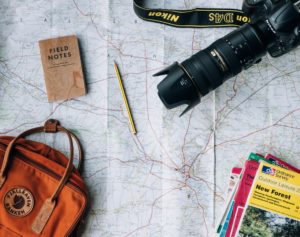 5TH February 2020
Valentine's day is right around the corner so, if you're coupled up and looking to spend a romantic few days away, we are here to help. Listed below are some of our top recommendations for places to head for a romantic weekend break. Whether you're looking to stay in the UK, venture further afield, or are simply looking for some destination inspiration, we cover all bases to help you find your ideal getaway location. Let's get started.
Sussex, England.
Who said you had to hike out a fortune on flight prices to have an amazing weekend away? Choosing to 'staycate' can be a great way of keeping costs down while also providing you and your partner with a memorable experience.
While there are many areas of the UK worth visiting – such as Edinburgh, Dartmoor or the Lake District – our top pick is the county of Sussex in the South of England. With an abundance of beautiful beaches, stunning scenery and quick links into London, wherever you
choose to stay in Sussex
will provide you and your partner with a truly unforgettable time away.
From Camber Sands to Brighton, Sussex is well-suited to all types of budgets and forms of activities. Why not take a long romantic walk up Devil's Dyke? Or go for a nice dinner and drink in the beautiful town of Lewes? Whatever you decide to do in Sussex, we guarantee you'll have a great time.
Paris, France.
Already well-known for being the city of love, Paris is the ideal place to visit if you're in a couple. Boasting iconic sights like the Eiffel Tower and the Arc de Triomphe, the city is also home to a wide range of bespoke designer shops and a truly
mesmerising art scene
.
That's not even mentioning the food that's available there either. From baguettes and croissants, to boeuf bourguignon and French onion soup, you definitely won't be going hungry during your visit. And, if you're feeling especially brave, you could even try '
cuisses de grenouille
' or '
escargots
' – known more commonly as 'frog's legs' and 'snails.'
Plus, if you and your partner are Disney fans (which, come on – who isn't?!) Disneyland Paris is only a short train ride away from the city centre.
Venice, Italy.
Known as the sinking city, Venice is famed for its romantic reputation, making it the ideal place to visit if you're in a couple. Made up of 177 canals, 400 bridges and 118 islands, the North Eastern Italian city is jam-packed with history and an abundance of things to see and do.
St Mark's Square, for example, is a must-visit, as is taking a relaxing gondola ride around the city. A number of tourists also enjoy visiting
Murano Island
– the home of venetian glass making – where they can explore the various art galleries and markets it has to offer.
Another 'must-do' if you choose to visit Venice for Valentine's Day is to get an ice cream. I know it might only be February while you're there but trust me – you won't regret it.
New York, USA.
Since your partner is the apple of your eye, why not take them on a weekend break to the Big Apple itself?
New York is not only home to some of the
best TV shows
of recent years – Friends, Brooklyn Nine-Nine, How I Met Your Mother, etc. – but it is also home to a plethora of sights and landmarks for couples to see and enjoy.
Whether you decide to catch a show on Broadway, hike up the Empire State Building, get snap-happy at the Statue of Liberty, admire art at the
Guggenheim Museum
, or take a spin around Times Square, a weekend break in New York will be an experience that lives long in the memory.
Barcelona, Spain.
Amazing architecture, buzzing bars, creative cuisine – it's safe to say Barcelona really does have it all.
The Catalan city is a must-visit for any wannabe explorer out there. With golden beaches and some of the most unique artwork you can come across, it's not hard to see why the city is one of the most popular destinations globally, let alone in Europe.
Whether you and your partner choose to enjoy the serenity of
Park Güell
, channel your inner Lionel Messi and Luis Suarez at the
Camp Nou
, or wander around Antoni Gaudi's soon-to-be-finally-completed
Sagrada Familia
, however you spend your time in Barcelona, you'll be pretty much guaranteed to have a great time.